Viera Community Institute Announces Main Sponsors For 2015 'Light Up Viera' Parade Premiere Holiday Event
Comments Off

on Viera Community Institute Announces Main Sponsors For 2015 'Light Up Viera' Parade Premiere Holiday Event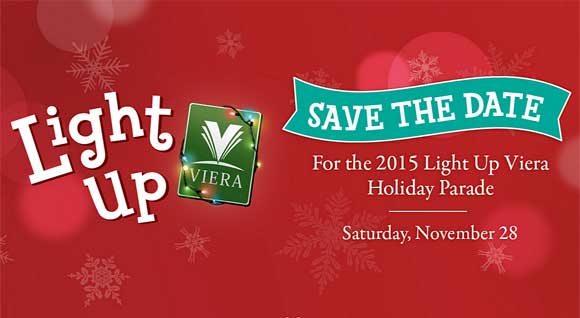 The Viera Community Institute announced the main sponsors for this year's Light Up Viera parade, Viera's premiere holiday event, set for Saturday, Nov. 28. The sponsors include the Health First Viera Hospital, Evolve Design Group, Ron Norris car dealership, the Space Coast Stadium and The Viera Company. Among the event's media partners is Lite Rock 99.3 iHeartRadio. In addition to significant monetary donations, the sponsors also contribute to the event's success with in-kind donations.
The Ron Norris car dealership will provide trucks to pull the floats and also purchased a float.
Space Coast Stadium is set to stage a magnificent fi reworks show at the end of the parade and will open its facility for fun family activities during the event.
"As Brevard's hometown health system, Health First's Viera Hospital is proud to again support this family-friendly event right here in our community," said Aaron Robinson, CEO of Health First's Community Hospitals.
Lite Rock 99.3 iHeartRadio will live-stream the event through its station app. Mindy, from the morning show Mike and Mindy, will be reporting live from the parade.
The Evolve Design Group is donating a float to the local Girl Scouts program. "We'd like to extend our gratitude to the generous sponsors without whom this beautiful, magnificent holiday parade wouldn't be possible," said Lauri Duda, Vice President of Marketing for The Viera Company.
"We can't wait to see all of the happy faces when colorful floats take over Viera's streets the evening of Nov. 28 beginning at 6 p.m." The Viera Company, a wholly-owned subsidiary of A. Duda Sons, Inc., manages commercial and residential development of the company's non-agriculture property and is the master developer of the master-planned community of Viera in Brevard County, Florida.
VIBRANT COMMUNITY
The company's integrated real estate operations include Viera Realty, Viera Builders, Viera Commercial Properties and the Duran Golf Club in Viera. The Viera Company and its diversifi ed business operations are intimately concerned with promoting the continued growth and prosperity of Viera as a vibrant community where people live, work and play.
For more information call 321-255-4500 or e-mail [email protected] The Viera Community Institute is located at 7380 Murrell Road, Suite 201, in Viera.